Smith & Wesson offered us a chance to try out the most powerful production revolver in the world. Meet the Performance Center 460 XVR.
U.S.A. –-(Ammoland.com)- When we first opened the box and the nylon zipper case our first thought was "How do I mount a stock on this thing?" only to be rebuked by the thought of that cylinder going off so close to my face.
"It's a lot of gun", is the understatement of the year.
Brief History of Why
At one time my favorite handguns to shoot were considered oddballs. Take for example the Thompson Cent
er Contender in 41 Magnum, 30-30 Winchester, 223 Remington or 45-70 Government. That was all about squeezing the maximum velocity out of a powerful round in a handgun. Then there was the Remington XP-100 in 7mm BR and the Savage Striker in 308 Winchester.
The problem with the XP-100 and the Savage Striker was that they were awkward to shoot for many shooters. The Thompson Center Contenders and Encores also suffered from being single shot and the case could be made that an 8″ to 10″ bbl hunting revolver was a wiser investment.
Many of these "cut down rifles" disappeared from the market when something better came along from S&W in the forms of the S&W 500 and S&W 460. Many shooters mistakenly believe that they were developed for Brown Bear encounters in the Great White North.
On the contrary, they were developed as serious hunting handguns for big game as they ballistically mirrored the powerful .30 caliber Magnum rifle rounds in a (slightly) more portable package revolver style.
Smith & Wesson offers short barreled versions of these revolvers for those who venture into bear country, but we caution our readers for using these revolvers for that purpose. The hard recoil may cost you a quick follow-up shot and much of the power of these round are lost in a sub 8" bbl.
SHOP BY BRAND
The Design
In 2005, Smith & Wesson rolled out the 460 S&W on their powerful X-Frame which had been developed for the earlier 500 S&W Cartridge. The frame is precision machined from stainless-steel hammer forgings with a brushed satin finish. The unfluted cylinder holds five rounds. The barrel is fluted forward of the shroud to reduce weight and increase rigidity. The barrel is crowned with a side-venting muzzle brake, which controls barrel rise, vents gasses to the sides and makes one hell of a fireworks show.
Top and bottom Picatinny rails adorn the barrel shroud. The top rail is for optics and the bottom is intended for a bipod.
Shooting the Most Powerful Revolver on Earth
Surprisingly we found the ammunition a bit cheaper than we anticipated at $34 for a box of 20 rounds of Hornady 200 grain XTPs at our local sporting goods store. The muzzle velocity with these rounds through the 14″ barrel came out to 2,370 f.p.s.; with a kinetic energy of 2,495 foot lbs. of energy.
Despite those numbers, the felt recoil was much less than we anticipated (particularly when you realize that you can download to a 454 Casull).
We have spent 30 years shooting big bore revolvers and as we mentioned, rifle calibers out of pistols. We used to think that this made us a poor judge of recoil until last year when we fired 5 rounds from an 8 3/8″ S&W 500 and had to put a pair of gloves on to finish the box!
The 460 S&W was less punishing. Some compare it to a heavy 44 Magnum. We do not find that to be accurate. It was much more comparable to a 454 Casull. We suspect the 5.5 pounds of revolver and bipod soak up much of that and the Hogue grips help out quite a bit as well.
Our first outing with the revolver was to get used to the recoil and have a few members of the staff at Reno Guns & Range get acquainted with it. Not only to see if they wanted one as a rental gun but to see if they had the same sense of recoil that we did.
With our suspicions confirmed we took it out to the local outdoor range and sighted it at 100 yards using the factory sights. You will get better accuracy with a proper optic, but iron sights with the bipod from a bench gave us a sub-3-inch five-shot group.
We know of other shooters that really get that down to just under or just over an inch and we can see that. Our eyes at that distance even with a bipod are probably a bit too old for iron sights these days.
Final thoughts
If you are a dedicated handgun hunter and want a wheel gun capable of taking any animal in North America, this one is right up your alley. If you are a certified power fiend who wants to push the most energy down range; this revolver has your name on it. Again, the sub 8-inch barrels are probably not worth it for either of these tasks, yet they possess a unique "cool factor" in their own right.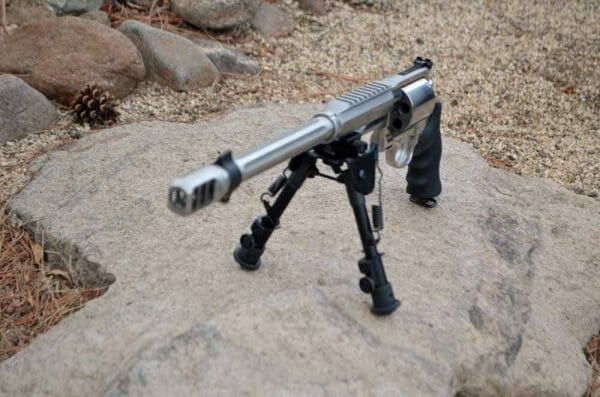 We have not seen many holsters for this one, but S&W includes a nylon sling for ease of carrying.
Although you can download to the other straight wall .45 revolver cases, we probably would not go much shorter than the 454 Casull due to bullet jump through that long cylinder.
Specifications
Model: PERFORMANCE CENTER Model 460XVR – 14″ Barrel with Bi-Pod
Caliber: 460 S&W Magnum (will chamber 454 Casull, 45 Colt, 45 Auto Rim, 45 Schofield)
Capacity: 5
Barrel Length: 14″
Overall Length: 21.5″
Front Sight: Black Ramp
Rear Sight: Adjustable
Action: Single/Double Action
Grip: Hogue
Weight: 87.1 oz
MSRP: $1559
Credit- Ammo Land